Binance Virtual Conference to Feature Panel Discussion Centered on 'Crypto in Africa: Mobilizing the Unbanked'
In celebration of its third anniversary, global cryptocurrency exchange, Binance, is holding a virtual conference/award event with the theme "Off the Charts!".
Started in 2017, the Malta headquartered crypto company, has grown to become the largest cryptocurrency exchange by volume, according to statistics from cryptocurrency resource platform, CoinMarketCap.
The virtual conference will be a 10-hour live online event featuring keynote addresses, fireside chats, a spotlight segment and panel discussions from regions making tremendous impact in the crypto world.
Amongst the five discussion segments, is the panel discussion on the topic: "Crypto in Africa: Mobilising the Unbanked", which features some outstanding speakers from Africa.
Binance Turns 3; Confirmed Guest Speakers from Africa
Notable speakers from Africa include; Akon – Chairman & Co-Founder, Akoin,
Chimezie Chuta – Founder, Blockchain Nigeria User Group,
Eugene Mutai – CTO, Raise
Munachi Ogueke – Chief Business Officer, YellowCard Financial,
Senator Ihenyen – Lead Partner, Infusion Lawyers,
Sonya Kuhnel – COO, Xago & Co-Founder, Bitcoin Events & Blockchain Academy
Yele Bademosi – CEO, Bundle Africa
Binance is dedicated to cryptocurrency adoption in Africa
Led by a vibrant CEO, Changpeng Zhao, the Binance team is one of the blockchain companies that has been on the forefront of innovation in the crypto world.
Here in Africa, when it comes to fostering adoption of cryptocurrencies, Binance has been one of the crypto companies dedicated to the continent; having supported and funded over five crypto startups on the continent, with the most recent being Bundle Africa.
Also, Binance is a popular choice amongst cryptocurrency traders Africa. And the crypto exchange allows users from countries like Nigeria, South Africa and Kenya, to buy and sell bitcoin and other cryptocurrencies with their respective local currencies.
As part of the third anniversary celebration, the cryptocurrency exchange will be giving out an honourary award (custom-made physical trophy engraved with their name) to some of the top influencers by region.
The #BinanceTurns3 virtual conference will hold on the 14th of July, 2020.
Time: 9:00 AM – 7:00 PM (UTC)
For the full list of the line-up speakers and information on registration, visit the event page.
Binance Smart Chain Popularity Grows In Africa Crypto Ecosystem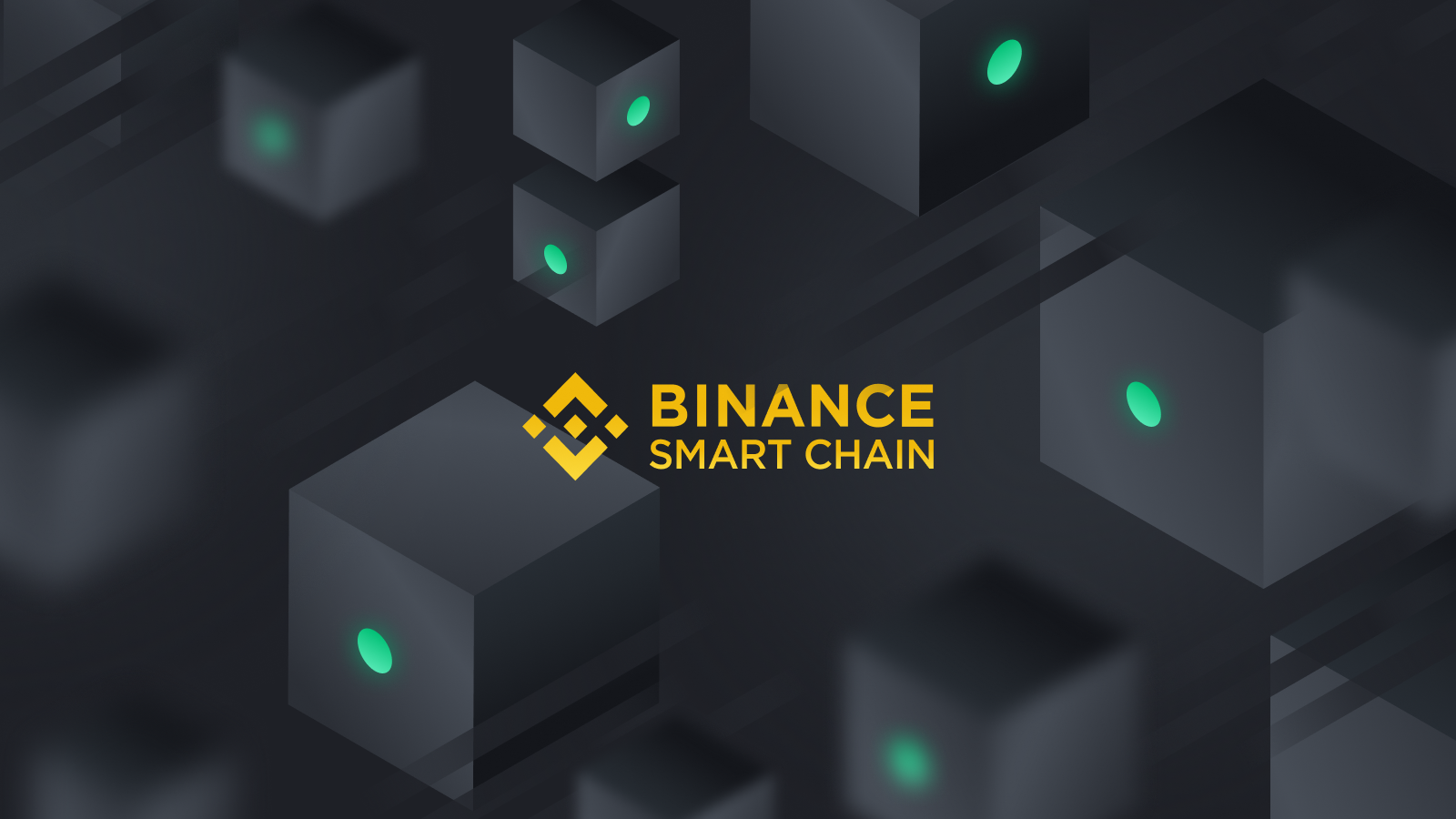 The Binance Smart Chain (BSC) was launched in September 2020, with the aim of allowing users to create smart contracts for tokens on the Binance blockchain. It makes use of the Proof of Stake (POS) consensus algorithm, which boasts compatibility with the Ethereum Virtual Machine (EVM).

The Binance Smart Chain connects seamlessly with many familiar tools used by Ethereum developers to improve user experience, security, and scalability. By being EVM compatible, the Ethereum developers can easily move their applications over to the BSC ecosystem.

Apart from the EVM compatibility, BSC has several fascinating features such as cheaper fees, interoperability, short block time, high speed, double sign detection, and chain finality. This made BSC to become a serious alternative to Ethererum network. Since it is overridden with high gas fees due to its design as a Proof of Work network. These led to increased traction and transactions on BSC.

According to the CEO of Binance, Changpeng Zhao via his Twitter account, there are currently more daily transactions on the Binance Smart Chain (BSC) than on the Ethereum network. He also said that the total value transacted on BSC will soon surpass that of the Ethereum Ecosystem.

While on February 18, statistics showed that BSC recorded 2.5 million transactions on its network, and Ethereum network recorded 1.3 million transactions. Also, over $15B in total transaction volume was traded on BSC by January, 2021. With the Total Value Locked (TVL) in DeFi on BSC is about $4.976B and the total BNB locked is 22,222,694 BNB.

These increased influx of transactions are fueled by the DeFi protocols such as Venus, an algorithmic money market and synthetic stablecoin protocol created uniquely for BSC. After its launch on the Binance Smart Chain (BSC), the price of Venus Token (XVS) rose by 750%, from the low of $10.04 on February 2 to establish an all-time high of $95.90 on February 20.

Another popular DeFi protocol fueling transactions on BSC is the PancakeSwap (CAKE). The food-themed token which became the first billion-dollar project on the Binance Smart Chain (BSC). Data from TradingView shows, the price of $CAKE rose from 520%, after hitting a low of $1.89 on February 3 to a new all-time high of $11.12 on February 17. This made it to achieve a new landmark – its total market cap reaching $1 billion for the first time.

The total value locked (TVL) on the PancakeSwap protocol has continued to increase from $150 million on January 23 to a new high of $2,477 billion on February 17, according to a data from Defistation. Addition of new farming opportunities on the platform also led to rapid growth in the TVL and also, its token's value.

According to CoinGecko, the trading volume on the PancakeSwap platform has seen a steady rise in recent weeks with data showing that $CAKE is now the first-ranked DEX by trading volume, with Uniswap (UNI) of Ethereum network behind it. PancakeSwap is also likely to have more upside potential as the cryptocurrency sector continues to go mainstream.

The advent of Binance Smart Chain with his fascinating features is already attracting African startups and companies, with many crypto enthusiasts pledging their full support for BSC. These unique features of BSC such as low fees, stability and its fast block time make BSC to be seen as an ideal smart contract platform for DeFi startups in Africa.

This made Aronu Ugochukwu, the CEO of Xend Finance to announced that their product is being built on the Binance Smart Chain, after seeing the allotted advantages associated with BSC.

Xend Finance is a Nigerian tech startup that makes use of decentralised finance (DeFi) platform which is built on the Binance Smart Chain (BSC). Users of Xend Finance are allowed to save and invest in stable currencies in the global market without the need for a traditional middle man in the country.

The Nigerian-based decentralized finance (DeFi) platform, Xerd Finance was able to implement the unique features of BSC by creating a destructive innovative approach to keep small and medium-sized businesses (SMBs) in business during the Covid-19 lockdown with no internet connection required.

This was achieved by Geena, an app produced by Xend Finance. Geena is a personal assistant for businesses, that manages everything from point of sale, to customer relationship management, and business intelligence. Which made Google shine a spotlight on Xend, the African DeFi Project, offering offline capabilities and awesome customer service.

Also, the Nigerian Naira Token (NGNT) Stablecoin announced via his Twitter account on February 12, that it is now live on the Binance Smart Chain (BSC) and the NGNT is also backed 1:1 by the Binance USD (BUSD) stablecoin.

This news came after the recent announcement via Binance's Twitter handle, that the NGNT is now fully collateralized by the USD Coin (USDC), the world's leading digital dollar stablecoin that is fully backed by the United States Dollar and runs on the Ethereum blockchain. USDC is currently available on various smart contract platforms, such as Ethereum, Algorand, Stellar, and Solana.
Nigerian Crypto Traders Explore Alternatives After CBN Ban To Remain Africa's No 1 In P2P
After the Central Bank of Nigeria released a circular instructing the banks to play no role in crypto trading and investing, there has been a frenzy on social media.
While enthusiasts and traders largely condemned the actions of the CBN, most are assured that the new directive will not impede crypto activity in the country. Veteran traders took to twitter and other social media platforms to dispel any form of panic among holders and other traders.
Interestingly, after the circular was released, bitcoin peer-to-peer trading increased dramatically in the country. Nigeria already holds a top spot in the world, when it comes to crypto adoption. Bitcoin has become a viable alternative to the country's weakening Naira.
Barely a week after the directive by the Central Bank, Usefultips revealed that peer-to-peer lending of bitcoin, surged by 15%.
Nigeria leads Africa by a whopping $7.5 million in peer-to-peer lending. Kenya, which was closest, came in second at $2.86 million while South Africa comes in third with a transactional peer-to-peer value of $2.38 million.
Nigeria's population, which is dominated by tech savvy youths, has proved that the new CBN directive will not deter crypto usage in the country. The news seems to have sparked a wave of interest in crypto usage and trading.
Alternatives To Fiat Deposit And Withdrawal
Moments after the CBN directive made rounds in the news, exchanges disabled fiat deposits and withdrawals of naira. This made buying directly from exchanges and withdrawing crypto equivalents into naira bank accounts impossible.
While some expressed their fears over the new development, some simply decided to turn to peer-to-peer. Those who needed to turn crypto into fiat simply sold to those who needed to turn fiat into crypto.
This method however, makes newbie crypto users and traders susceptible to crypto scams. In light of this susceptibility, some exchanges have provided services that protect users and make peer-to-peer easier.
PaxFul P2P Marketplace
When it comes to peer-to-peer trade in Africa, Paxful is at the forefront. The exchange overtook LocalBitcoins in June last year to become the biggest peer-to-peer marketplace in the world.
A quarter of Paxful's users are made up of Nigerians, they also constitute the company's second largest bitcoin market.
As the biggest peer-to-peer trading platform in the world, it is certain that Paxful will have no troubles catering to customers who have to turn to p2p following CBN's new directive.
Binance P2P Escrow Service
While peer-to-peer trading might seem like a simple alternative to bank deposits and withdrawal of crypto, parties involved in the exchange might not always hold up their end of the deal.
Binance's escrow service reduces the risk associated with peer-to-peer transactions. An escrow service ensures fair trade between two parties. It ensures that both parties are adequately compensated after a trade has been made. An escrow is a trusted third party that holds on to funds until the buyer and seller are satisfied with the transaction.
In Binance's escrow service, once the buyer places an order, the seller's cryptocurrency is automatically deposited into the escrow wallet. The crypto will be sent to the buyer once the transaction has been completed.
The escrow service follows clear and easy steps. Once an order has been placed, buyer and seller will begin to communicate. The buyer proceeds to pay once an agreement has been made. Seeing the payment confirmation, the seller releases the crypto to the buyer
In cases where either party acts unfairly, the escrow service withholds the crypto and sends it to the rightful owner after enough investigation. Buyers are implored to have screenshots of their conversations with sellers, including payment receipts.
BuyCoins NGNT Token
Stablecoins are cryptocurrencies without the volatility of cryptocurrencies. This is because they're pegged to the value of a particular fiat cryptocurrency. A stablecoin pegged to the dollar will have the same value as the dollar.
NGNT is a stablecoin pegged to the naira. Consequently, one NGNT equals 1 naira. NGNT extends the advantages of blockchain and digital currencies to the naira. It is fully collateralized by USDC, the leading dollar stable coin.
NGNT was created by BuyCoins Africa. Announced in Q1 of 2020, the coin is now supported by Paxful, BuyCoins and Busha.
NGNT avails traders of the need of using digital fiat to purchase cryptocurrencies, they also escape the volatility associated with converting fiat to cryptocurrencies, as the NGNT is pegged to the naira.
Bundle's First Mobile Peer-to-peer
Binance-backed crypto exchange, Bundle, is looking to build the first mobile peer-to-peer platform. 
Yele Badamosi, Bundle CEO, revealed on Twitter, that the exchange is "working with partners to integrate our alternative channels to fund and withdraw from your cash wallets…
We will work on creating a mobile-first Peer-to-Peer (P2P) platform that will allow you to swap assets with other Bundlers quickly, securely, and simply."The mobile peer-to-peer will be a remarkable innovation in the crypto space. Positive results are imminent if Bundle integrates the platform. 
With a policy highly intolerant of scams, crypto users new to  p2p can carry out all transactions with peace of mind.
Nigeria is constantly proving that cryptocurrencies and blockchain is in fact made for Africa. With levels of transactions recorded in the country amid the apex bank's ban, it's safe to say there's nothing that can stop crypto adoption in Africa.
Binance's Plan To Train 1000 African Blockchain Developers Through Its Masterclass Developers' Edition
Leading cryptocurrency exchange, Binance, is organizing a FREE 8-week blockchain developer course to help up to 1000 Africans build a career in blockchain technology within the first quarter of 2021, by equipping them with appropriate skills and tools to build Defi DApps on the Binance Smart Chain (BSC) Network. 
The  8-week series of events is set to kick off on the 31st of January with a two-hour Binance Masterclass – Developers' Edition on 'Careers in Blockchain Technology', which will introduce the program through the CEO of Binace, Changpeng Zhao (CZ).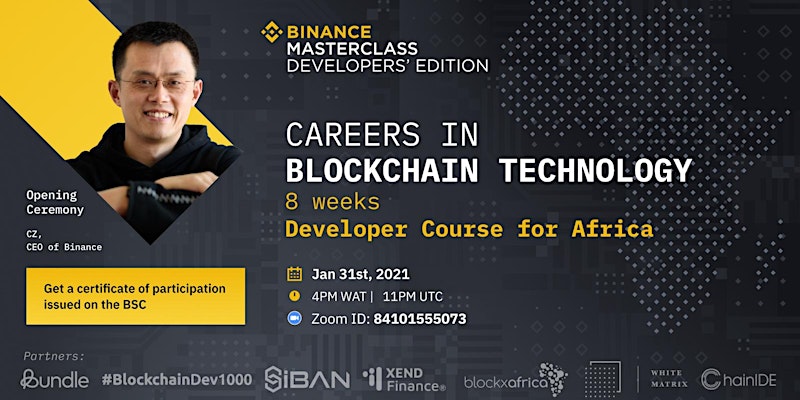 The masterclass will expose attendees to possible career options in the crypto and blockchain sphere, as well as the acquisition of blockchain development skills required to obtain high income in the blockchain industry. The entire 8-week program will feature in-depth and insightful sessions & trainings from a number of blockchain industry leaders from organizations like ChainIDE, Xend, Bundle, and the Binance Smart Chain team, including facilitators such as:
Ugochukwu Aronu — CEO, Xend Finance
Chimezie Chuta — Founder, Blockchain Nigeria User Group
Shuyi (Tim) Zhang — CTO, White Matrix
Yele Badamosi — CEO & Co-founder, Bundle
Xiaoguang Zhang — Binace Smart Chain ecosystem coordinator
The first session, scheduled to hold on January 31st, 2021, will begin by 4:00PM WAT. The first 1,000 attendees will join the event on zoom while the rest will access the event via YouTube.The 1,000 attendees hosted on zoom will receive certificates of participation which will be issued on Binance Smart Chain. $1000 worth of crypto will also be up for grabs for attendees.
Over the course of the 8 weeks, developers will be taken through a comprehensive journey on blockchain development, themed 'Rebuilding Financial Systems on Blockchain.' The outline of the 8-week program is given below under the following weekly themes:
WEEK 1
Blockchain: Technology, Innovation, and Thinking
A brief conception of blockchain
History of blockchain
Possible future of blockchain
WEEK 2
Financial Service and Cryptocurrency On Blockchain
WEEK 3
Dapp Development with ChainIDE
Make an introduction about Chainide, about the feature and function
Bring engineers go through with the whole process of compile\deploy\interaction
WEEK 4
How Solidity Works in a Smart Contract
Make an introduction of smart contracts and talk about the internal connection with blockchain
Introduce the smart contract programming language – solidity (ie.. Solidity grammar / function / .sol file structure / memory storage)
WEEK 5
What is DeFi? Make One Yourself
Make a definition of DeFi. How is it different from traditional finance? Are there any advantages?
Take a few look at DeFi projects, like Uniswap / AAVE / YFI etc.
What will we build? A system includes staking and reward
WEEK 6
Let's Follow DeFi To Go Further
How to use another contract in the smart contract
The implementation of staking and rewarding
What else can we do? (lending / aggregator)
WEEK 7
Interact with Smart Contracts by Yourself, from Start to Finish
How to use the program to interact with the contract. The relationship between React and JavaScript (The related links will list in pre-class information. About the JS grammar and React rules)
Display an example about how to build a simple website that can react with deployed smart contracts
WEEK 8
DeFi Case Study / Inside Out. Panel: How to Build a Successful DeFi Project
WEEK 9(Optional)
Invited Speakers: Frontier Blockchain Technology Outlook
DEMO SHOW
A demo of the top 5 projects from the students of the masterclass
You can register for the event here: