Leading cryptocurrency exchange, Binance, is organizing a FREE 8-week blockchain developer course to help up to 1000 Africans build a career in blockchain technology within the first quarter of 2021, by equipping them with appropriate skills and tools to build Defi DApps on the Binance Smart Chain (BSC) Network. 
The  8-week series of events is set to kick off on the 31st of January with a two-hour Binance Masterclass – Developers' Edition on 'Careers in Blockchain Technology', which will introduce the program through the CEO of Binace, Changpeng Zhao (CZ).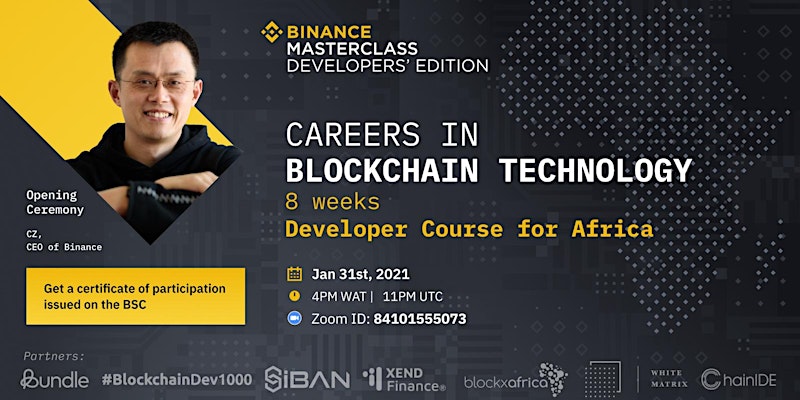 The masterclass will expose attendees to possible career options in the crypto and blockchain sphere, as well as the acquisition of blockchain development skills required to obtain high income in the blockchain industry. The entire 8-week program will feature in-depth and insightful sessions & trainings from a number of blockchain industry leaders from organizations like ChainIDE, Xend, Bundle, and the Binance Smart Chain team, including facilitators such as:
Ugochukwu Aronu — CEO, Xend Finance
Chimezie Chuta — Founder, Blockchain Nigeria User Group
Shuyi (Tim) Zhang — CTO, White Matrix
Yele Badamosi — CEO & Co-founder, Bundle
Xiaoguang Zhang — Binace Smart Chain ecosystem coordinator
The first session, scheduled to hold on January 31st, 2021, will begin by 4:00PM WAT. The first 1,000 attendees will join the event on zoom while the rest will access the event via YouTube.The 1,000 attendees hosted on zoom will receive certificates of participation which will be issued on Binance Smart Chain. $1000 worth of crypto will also be up for grabs for attendees.
Over the course of the 8 weeks, developers will be taken through a comprehensive journey on blockchain development, themed 'Rebuilding Financial Systems on Blockchain.' The outline of the 8-week program is given below under the following weekly themes:
WEEK 1
Blockchain: Technology, Innovation, and Thinking
A brief conception of blockchain
History of blockchain
Possible future of blockchain
WEEK 2
Financial Service and Cryptocurrency On Blockchain
WEEK 3
Dapp Development with ChainIDE
Make an introduction about Chainide, about the feature and function
Bring engineers go through with the whole process of compile\deploy\interaction
WEEK 4
How Solidity Works in a Smart Contract
Make an introduction of smart contracts and talk about the internal connection with blockchain
Introduce the smart contract programming language – solidity (ie.. Solidity grammar / function / .sol file structure / memory storage)
WEEK 5
What is DeFi? Make One Yourself
Make a definition of DeFi. How is it different from traditional finance? Are there any advantages?
Take a few look at DeFi projects, like Uniswap / AAVE / YFI etc.
What will we build? A system includes staking and reward
WEEK 6
Let's Follow DeFi To Go Further
How to use another contract in the smart contract
The implementation of staking and rewarding
What else can we do? (lending / aggregator)
WEEK 7
Interact with Smart Contracts by Yourself, from Start to Finish
How to use the program to interact with the contract. The relationship between React and JavaScript (The related links will list in pre-class information. About the JS grammar and React rules)
Display an example about how to build a simple website that can react with deployed smart contracts
WEEK 8
DeFi Case Study / Inside Out. Panel: How to Build a Successful DeFi Project
WEEK 9(Optional)
Invited Speakers: Frontier Blockchain Technology Outlook
DEMO SHOW
A demo of the top 5 projects from the students of the masterclass
You can register for the event here: